"You asked about any rock stars at the station – we had plenty, and other stars too, like John Wayne (in Dallas for the premiere of True Grit at one of Gordon's theaters), Peter Fonda and Dennis Hopper (plugging Easy Rider), William Shatner (plugging his stupid Star Trek poetry album) and Andy Williams (don't know why he was there – was a friend of Ken Dowe).
As for music guys, we had Joe Walsh and the James Gang, who left little "James Gang Rides Again" stickers all over the building. Donovan came by for a short interview one day, as did one of my favorites, Tiny Tim! He spent an hour in the small KNUS studio with me, talking about Miss Vicki and his album and he was just a fruity as his television persona on Laugh-In.
Jose Feliciano did a LIVE concert from the talk show room and Elton John was going to do one for us, LIVE, but we couldn't get a grand piano in the building (his requirement). He did a live concert from a New York radio station the next year and released it on an album. Three Dog Night were there twice, Neil Diamond came by and signed one of his albums for me (still have it) and Steve Miller. I'm sure there were others, but that was quite awhile ago and hard to remember them all. It was great fun."
Thanks Mike. I don't know how a grand piano could have come into the Triangle Square Studios without taking out a window in the KLIF studio and using a crane. Did anyone ask Gordon? It was zany enough that Gordon McLendon might have gone for it. He could have invited Liberace
to play along. He probably knew him too.
GORDON McLENDON *
Gordon McLendon is considered the creator of format radio and one of the most innovative programmers in the medium's history.
McLendon was born on June 8, 1921, in Paris, Texas and purchased station KNET/Palestine in 1946. The following year, McLendon moved to Dallas and launched KLIF. Unable to afford live baseball broadcasts, McLendon adopted an on-air personality known as "The Old Scotchman" and aired re-creations of games with the help of sound effects and wire service reports. These re-creations were later heard on over 400 stations via he short-lived Liberty Broadcasting System.
In the early 1950s, McLendon made KLIF one of America's first "Top 40" stations. The polished format, along with fast-paced news and "personality" disc jockeys, quickly made KLIF Dallas' top-rated station. McLendon maintained KLIF's high profile by spending thousands of dollars every month on headline-grabbing stunts and contests.
KLIF's success led McLendon to explore other radio formats. In 1959, he created the "beautiful music" format for KABL/San Francisco. In the early 1960s, he started the first "all-news" radio station at WNUS/Chicago. One of WNUS' reporters was future CNN anchor Bernard Shaw.
Gordon McLendon died on September 14, 1986.
Gordon McLendon was inducted into the Radio Hall of Fame in 1994.
* From The Radio Hall Of Fame Biography Website
J

ohn Wayne was there about a month after I started.
Steve Miller Band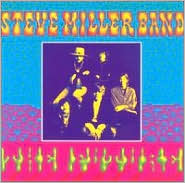 Tiny Tim
...with Miss Vicki
The Shatner " Transformed Man" album from 1968 was really bizarre. The original series was still on the air when this came out. Lucy in the Sky With Diamonds was tortured; however, he did go where no man had gone before.
I remember the James Gang Rides Again stickers...
...and the Feliciano broadcast.
And, Peter Fonda with Dennis Hopper, here with a soon to be well known friend they met along the way.
If any other KNUS-FM staffers from the "Old Daze" have any other memories they would like to share, please leave a comment.
Thanks to Tim Spencer for checking in.